1930s-early 1970s
Store on Monroe Avenue, Pittsford, NY 1980
Late 1970s-1980s
1990s-early 2000s
current
1932. Herbert Hoover was still in office. Pork chops were twenty cents per pound . . . potatoes were ONE cent per pound. And, Niblack Foods was born as a bakery. Niblack Foods was unique from the start– milling its own flour and specializing in whole-grain breads, cookies and pastries.
In the years following, Niblack Foods became a wholesale resource to health food stores. During that time, toasted wheat germ, pancake mixes, cookies, and granolas/cereals were our main offerings. Later, Niblack Foods began providing high-quality spices, flavors, and seasoning blends. Today we are a strong resource for everyday goods and specialty ingredients.
While a lot has changed since 1932, Niblack Foods' personal commitment to its customers and commercial clients remains stronger than ever. Our goal is to work with you in meeting whatever culinary, baking, or business goals you may have — whether you're preparing an at-home dinner for two or imagining production of custom spice blends for your business. Our staff is incredibly knowledgeable and ready to answer whatever questions you have in person, by phone, or by email.
Come visit our store at 900 Jefferson Rd., in Rochester, NY. (Henrietta area, Genesee Valley Regional Market). We are open Monday – Friday, 9 am – 5 pm, Saturday 9 am – 4 pm. Curbside Pickup available during those hours. We are also at the Rochester Public Market (seasonally) on Saturdays. Or, shop our full online store 24/7 here at www.niblackfoods.com.
No matter where you visit us, you'll discover ingredients and spices in sizes and varieties beyond those in some of the world's largest and best supermarkets or restaurant supply firms. We can't wait to be part of your culinary and baking adventures!
**We proudly support local businesses. Check out our great wall of locally sourced hot sauces, pasta sauces, honey (and more) that are also sure to spruce up your culinary creations.**
New store space: September 2020
Find Us at The Rochester Public Market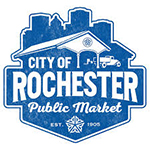 We are at the Rochester Public Market on Saturdays, May through December.
We carry most of our products at the market. Peruse our vast array of spices (and unique spice blends), hot sauces, dried fruits/nuts, grains, and rice. If there's something you'd like to see added to our market offerings, just let us know and we'll do our best to have it the following week. We always look forward to seeing market guests (and hearing how you use Niblack products!).
Questions? Contact Us
Fields marked with an * are required
Testimonials
Niblack is a wonderful local business, with a great selection of spices, baking supplies, rice and grains, and SO much more. They know their stuff, and they go out of their way to help their customers. I'm grateful for such a fantastic store in my community.
Never visited before until the other day, and now I don't think I can go anywhere else for spices. It's like a candy store for adults!
They ship, Folks. Surprise yourself and order some interesting items. Love this place, but I live far away now. Miss my shopping trips to Rochester.
They always have what I need for my baking and very helpful, knowledgeable employees. More unusual items that are not available elsewhere and prices are VERY competitive. Have been going here for years and will continue to do so
I really like their Chinese 5 Spice. Also use the granulated garlic and smoked sweet paprika. The quality of their products I find to be superb. My wife uses their lentil, split pea & rice soup mix called Harvest. And the staff is very helpful and customer oriented. Great place!
All the spices you'll ever want and some you've never thought of. The best assortment of hot sauces around .You won't regret stopping by. They are also at the Public Market in Rochester on Saturdays.
Very sweet and helpful staff. This place is awesome! They have everything from baking goods to cajun spices. Even if you aren't looking to cook anything specific you should stop in and look around. I got a handful of ideas for new stuff I should make by just being exposed to their incredible selection.
Your culinary mind will expand when you see the range of spices, flavorings, and sauces at Niblack. The staff is knowledgeable and friendly.